If you were waiting for an update, yesterday, on the antics of the rogue elf that has entertained
Zazzle
shoppers with his nightly midnight joy ride - we apologize. In an attempt to catch up with the elf, to photogragh and interview him, we were camped out in the bushes at the home of a local man who had invited the elf to stop by his porch for a couple of free bottles of peppermint schnapps. We learned, late last night, that the elf had finally appeared approximately 10 minutes after we gave up and left the man's home to wait for the elf at
Zazzle
HQ, where the elf appeared, right on schedule, sprinkling magic dust on the shopping cart for his joyride and spreading cheer and the overwhelming scent of candy canes throughout the aisles of
Zazzle
shops.
We regret that we were again unable to photograph the nightly spectacle, due to the throngs of excited shoppers blocking our camera lens with signs proclaiming their love of the elf and thanking him for the monumental holiday shopping savings they've enjoyed since he first began his nightly visits.
We did, however, catch up with ScareBaby, the owner of what seems to be one of the elf's favorite shops, Christmas Fun. She was kind enough to let us roll back her shop's surveillance footage where we were able to obtain this still to share with our readers: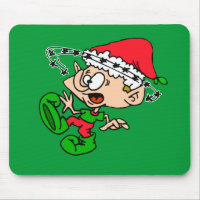 Shortly after the elf's departure, shoppers around the world began taking advantage of the night's magic word 12DAILYDEAL8 to save 40% off shirts & electronics cases and 15% off everything else in thousands of Zazzle shops.
That the magic has worn off at 11:59pm PST each night, precisely 24 hours after it has been applied to the shopping cart, seems to confirm early reports that the elf is indeed one of Santa's elves and that the fur lined red velvet pouch contains Santa's magic flying sleigh dust, taken from the North Pole upon the elf's escape. The North Pole, continues to deny the elf is one of theirs.
Officials are urging shoppers who want to save 40% on shirts and cell phone or tablet cases and 15% on other cool home, office and gift items to test the magic word 12DAILYDEAL8 for themselves before the magic expires at 11:59pm Pacific Standard Time, tonight.
You can try it out in the Christmas Fun shop or any of these fine shops:
Melhi Ink - My primary shop. Liberal politics, Peace, green living, lgbt, humor/snark, anti-Valentine, pro-divorce, etc.
GearCandy - Image driven designs. Patterns, photos, drawings, etc. Looking for my popular lines of Ninja or Mayan Calendar items? This is the shop you'll find them in!
GlibWare - Word/writing driven designs. Slogans, signs, sayings -- plus a couple of old school travel games.
Heirloom Salon - Vintage treasures and antique book illustrations brought to life again for modern day enjoyment.
The Bone Garden - Skulls, skulls and more skulls.
GrimDandy - The lighter side of Halloween - cute monsters, pumpkins, bats and our trademark character, Grim Dandy, himself, in his fancy stovepipe hat. (A few items say Trick or Treat or Happy Halloween on them, but most do not and can be used/worn year round.)
Crenshaw Bros. Alternative Mortuary Solutions - our hilarious line of Mortuary advertising/marketing humor. (examples: Buy a Happy Cadaver kids meal (with free gummi worms!) in the funeral parlour concession stand, Ask about premium scented embalming fluids in lavender, vanilla or new car. Book Crenshaw the Clown to turn your loved one's funeral into a circus!)
Rapture Rejects - Fun gear for all of us sinners who keep getting left behind every time the righteous have a rapture and whose faces don't get eaten off in the zombie apocalypse and who find out that the Mayan doomsday wasn't the end of the world, after all. (There's literally something for everyone in this shop. Heh.)
And if these shops don't have what you're looking for, I'm sure one of the other fine designers at Zazzle does!
Happy shopping!