Dear fellow foot soldiers in the War on Christmas,
As one of your field commanders, it is my pleasure to inform you that we have drawn up a fool-proof battle plan for this year's annual war on Christmas.
Our first salvo, as always, will be a steadfast refusal to have nativity scenes tattooed across our foreheads. This has worked very well for us in the past and we expect it to work as well, this year.
No nativity face painting either!
We will then proceed directly to not wearing sweatshirts with barely rec
ognizable reindeer crudely drawn on in discount store puffy paint with felt antlers and googly eyes hot-glued on in a tragic attempt to further the 3D effect.
To win, we MUST resist the temptation to wear this!
After that, we will emerge en masse onto the battlefield to launch a devastating sortie of wishing our enemies good cheer and the happiest.of holidays. To ensure the highest casualty count possible, we will bestow these warm wishes with smiles on our faces and in a sincere and genuinely heartfelt manner, sometimes with a handshake or even a warm hug.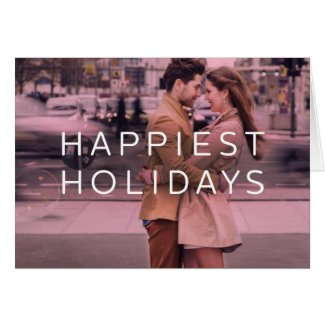 Sick, injured and shut-in troops can send greeting cards instead.
Happiest Holidays Photo Greeting Card by HoorayCreative
View more Holiday Cards at zazzle.com
If there are any remaining survivors among the opposition, we will finish off those wretched stragglers by going on about our lives, minding our own business, laughing, loving and crying as we see fit and we will brazenly endeavor to worry about more important things than the artwork on (or not on) a giant coffee chain's disposable cups.
Let the battles begin and may we all make it home in one peace.